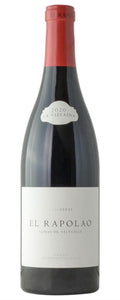 La Vizcaina by Raul Perez 2020 "El Rapolao"
Regular price $49.50 Sale
Raúl Pérez Pereira is universally considered to be one of the world's most visionary winemakers.
La Vizcaina is a relatively new project from Raul Purez that explores the hillside crus around his hometown of Vatuille de Abajo. Four reds and one white are produced under the name, all from vines with over fifty years of average age. Though all the red wines Raul produces in the Bierzo D.O. are labelled as 100% Mencía, they all in fact contain significant quantities of other local grapes. The craftsmanship of Perez shines through in every aspect of this wine. With meticulous attention to detail, he has created a masterpiece that showcases the true potential of the Mencia grape. 
Earning an impressive score of 96 points from Robert Parker's Wine Advocate, the 2020 La Vizcaina El Rapolao is a testament to Perez's expertise and dedication. This wine embodies elegance, sophistication, and a true expression of the Bierzo terroir.
A Wine Guy Selection